PROTECTION SHEATHS AND SPIRALS FOR HYDRAULIC HOSES
Our range of corrugated hoses and rubber hoses is completed with reinforced and protection sheaths and spirals that boost the performance of the hose itself, protecting it from external agents and increasing its operating temperature. The sheaths are mounted directly at our certified fitting centre in Adro, near Brescia, and come with safety wire ropes and clamps that prevent the extraction of the hose during operations.
MODELS AVAILABLE
Our range of protective sleeves include:
Abrasive-proof spirals. Black thermoplastic spirals with an operating temperature of from -20°C to +85°C with peaks of up to +95°C.
Splashproof sheaths. Innovative textile sheaths, applicable on all types of hoses, that boost the performance of the previous solutions. Their continuous operating temperature is +100°C with peaks of +120°C.
Metal braids. Galvanised steel or stainless steel external protection braids.
Heatproof sheaths. Fireproof sheaths made of glass fibre impregnated with silicone rubber. The solvent and fuel heatproof sheaths comply with AS1072 and NS48-084 standards and have a continuous operating temperature range of from -54°C to +260°C, with peaks of 1100°C for 5 minutes maximum.
Glass fibre sheaths. High thermal insulation sheaths made of twisted, textured and volumizing glass fibre yarns. They are asbestos free and have a maximum operating temperature of 550°C.
Ecological ceramic fibre sheaths. Sheaths made of ceramic yarns and cellulose based support fibre, with high insulating tightness and resistance even at very high temperatures. Maximum operating temperature 1050°C.
SAFETY WIRE ROPES AND CLAMPS
In addition to fitting the spirals and protection sheaths, our fitting centre also fits the safety wire ropes and clamps that prevent the extraction of the hose during operations.
THE RIGHT SHEATH FOR EVERY APPLICATION
Thanks to the extensive experience gained in this sector, our staff is able to provide a real time assessment of the characteristics of your hydraulic system, the fluids used and the operating temperature, so as to recommend the sheath that most suits your specific needs.
CERTIFIED AND TESTED RUBBER HOSES
At the end of the fitting process, our expert engineers conduct the final testing of the rubber hoses, carrying out flushing tests in accordance with the ISO and NAS standards and, on request, issue the relevant certificates of quality.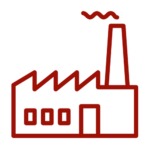 Hydraulic systems are present in almost all industrial machines that handle fluids during the various processes, such as machine tools, plastic moulding systems, industrial washing plants, chemical plants, steel plants, cement works.
In these sectors our technical support plays a key role in the design and realisation of customised hydraulic units, but also in the after-sales support and assistance services to machine manufacturers, maintenance firms and end users with technical advice, testing and inspection and scheduled cleaning services.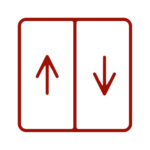 We supply valves, pipes, filters, fittings, motors, and pumps for agricultural machinery, earth moving systems, and road construction machinery, as well as forklifts, elevators, and marine carts.
We design hydraulic power units tailored to specific application needs and provide manufacturers of machinery, end-users, and technicians with testing services, flexible cleaning, component customization, and Kanban logistics.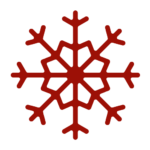 For the industrial refrigeration sector, in addition to supplying fittings, pumps, motors, and filters, we specialize in providing stainless steel tubes that can be customized and connected in our welding center.
Moreover, for the industrial refrigeration sector, we provide a post-sales service that includes testing and cleaning operations, technical support both at our headquarters and at the customer's site, and a dedicated logistics system through the Kanban management.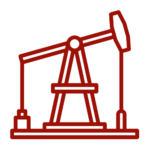 We support machinery manufacturers, maintainers, and users by providing top brand components, motors, and pumps, as well as tailor-made solutions to make drilling systems, mining machinery, and onshore and offshore oil extraction systems more efficient.
For the mining industry, we also offer our flanging center, perform testing and component customization, and implement the Kanban logistics system to ensure timely and consistent supplies.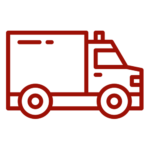 Our expertise in the hydraulic sector allows us to work with manufacturers, maintainers, and end users of all types of vehicles, from components for the railway and aerospace sectors to hydraulic solutions for agricultural and industrial vehicles, special vehicles, and military vehicles.
In addition to the supply of components such as tubes, fittings, motors, pumps, and filters, we offer technical support, component customization, Kanban logistics, and a timely after-sales service that includes testing, cleaning, and scheduled maintenance for the transport sector.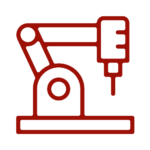 Inside our warehouse we have a wide range of hydraulic components and devices, which are used in construction machinery, robotic systems, and industrial plants in general.
Thanks to the Kanban logistics system, we can also guarantee to manufacturers, maintainers, and users in this sector a constant and punctual supply of the most commonly used components, and through our technical office, we provide them with all the pre- and post-sales support they need.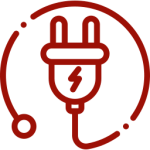 Increasing energy efficiency through the combination of intelligent and appropriate components allows for easy acquisition of all relevant data on a system, providing the basis for integrated energy management.
Thanks to our collaboration with world leaders in hydraulics, we can offer solutions through the application of state-of-the-art components.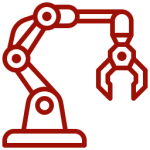 Industrial automation, innovation and digitalization, Internet of Things, data analysis, cloud computing, robotics, advanced sensors, predictive maintenance systems require new skills in order to integrate and use them successfully.
Discover them with us thanks to our collaboration with world leaders.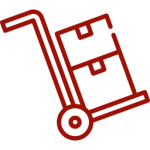 The hydraulics, in logistics, are applied in all transport, storage, control, robotic interactions operations.
Thanks to the brands we deal with and the specialization of our team, we can propose solutions to achieve the set objectives.
CHOOSE THE VERY BEST FOR YOUR HYDRAULIC SYSTEMS.
CHOOSE SAEFLEX.
Complete this form to get in touch with our technicians trained to recommend the most suitable solution to meet your demands.