In order to facilitate the search for available products whilst optimising work times, the Sae Flex facility has equipped itself with automated vertical storage systems. Let's look at the advantages.

Sae Flex has set itself the objective of supplying high-quality hydraulic components to its customers, in the shortest time possible so as to avoid machine downtimes and prolonged waiting times.
In order to accomplish this, over the last year a series of vertical storage systems have been installed at the Adro facility boosting efficient picking of inventory and making Sae Flex a 4.0 enterprise fully in step with today's market. Thanks to this automated storage management it is possible
Swiftly retrieve and pick every inventory product code
Each vertical storage system is dedicated to a specific range of hydraulic components.
Thanks to the automated system, the availability of each product is verified by a management system that provides real time details on which and how many components are available, avoiding unnecessary waiting times.
Swift reassortment of products
Given the possibility to receive real time inventory figures, with automated vertical storage systems each product code is reassorted when the set minimum stocks are reached, to guarantee constant availability to customers of the most requested hydraulic components.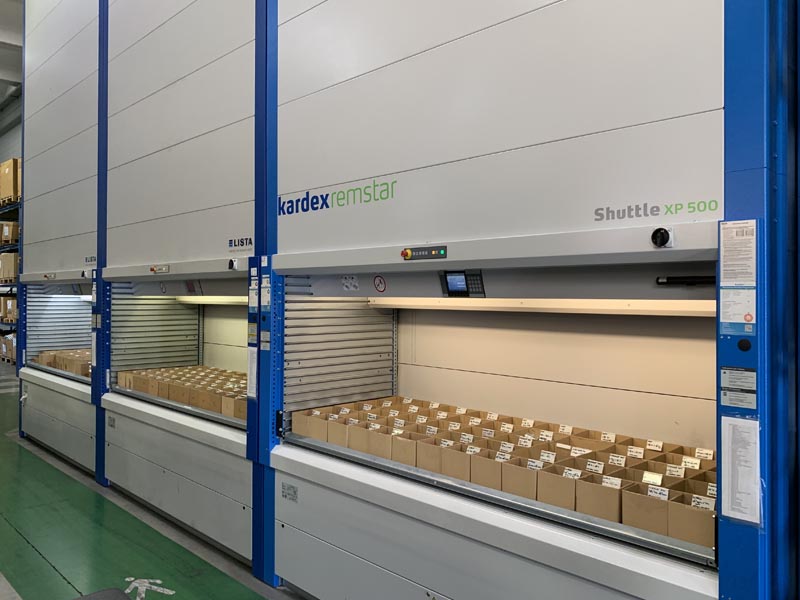 Connecting Sae Flex systems to manufacturers' management systems
The automation of the storage systems allows Sae Flex to also connect with the manufacturers of hydraulic components via management systems.
If a product is not available at the Adro facility, the stock at the manufacturers' warehouses are immediately checked and a direct order is issued, in order to speed up delivery times and to ensure even more timely support to the customers.
Thanks to the automated vertical storage systems, Sae Flex proves to be a facility that is attentive to market demands and oriented towards optimisation, confirming once again its role as a trusted supplier for the hydraulic sector.
Test the efficiency of Sae Flex vertical storage systems for yourself