The training event for the hydraulic industry, organised by Sae Flex and Rexoil in collaboration with Bosch Rexorth, has just come to an end, and during which the new ODin system was presented. Here are the details.

A unique training event took place yesterday dedicated to the hydraulic sector and held in the splendid setting of the Contadi Castaldi winery.
It was organised by Sae Flex and Rexoil, Italian benchmark enterprises for the design, manufacture and marketing of hydraulic systems and components, with the support of Bosch Rexroth, world leader in the production of hydraulic products.
The meeting generated many moments of exchange and growth among the participants, especially following the presentation of ODiN – Online Diagnostics Network, a diagnostic system for the maintenance of hydraulic systems.
ODiN – the network that prevents machine downtimes
ODiN is the Rexroth solution for the predictive maintenance of hydraulic systems.
Thanks to the Industry 4.0 technologies, it is possible to collect data on the life of individual components and to act in a timely manner when they need to be replaced.
The intelligent diagnostics system ODiN predicts when and which components of hydraulic systems need maintenance, allowing for targeted interventions that boost operational aspects.
Thanks to Rexroth's predictive analysis, the system is monitored during operations by sensors placed on the various components.
The data is collected in the cloud ODiN via a highly secure one-to-one connection network and are analysed by a computer that, also thanks to machine learning, can predict the required maintenance interventions.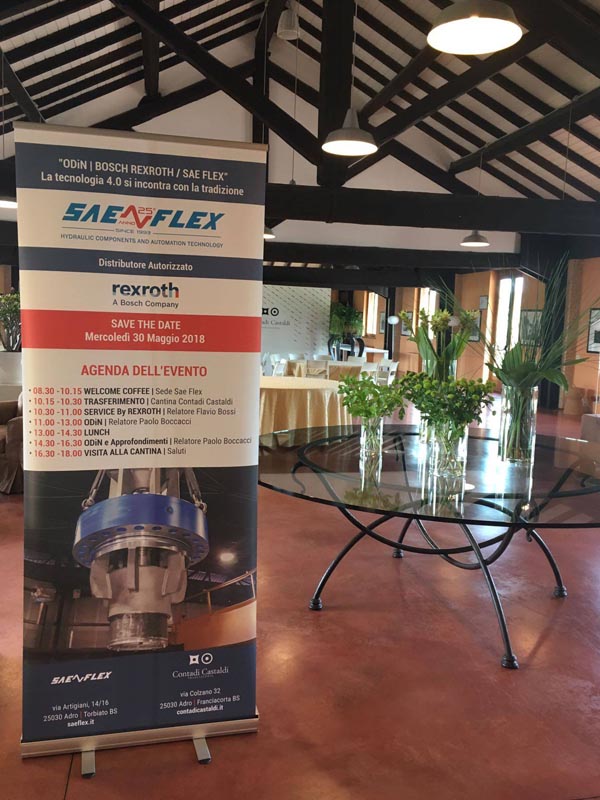 By using ODiN enterprises can establish predictive failure management, intervening before it's too late and without the risk of sudden downtimes occurring. This results in:
Reduced machine downtime costs
Maintenance speed increased by 50%
Increased productivity of each system
Reduced spare part storage costs
Diagnostic reports monitored by highly qualified technicians
The presentation of ODiN during yesterday's event was a demonstration of Sae Flex's commitment to its customer support aspects with a future-oriented hydraulic service that, thanks to the state-of-the-art technologies, delivers leaner and more efficient maintenance in every industrial sector.